(800) 250-9572


Palo Alto Location:
1795 El Camino Real, Suite 200
Palo Alto, California 94306
(800) 250-9572
San Mateo Location:
316 S. Eldorado Street, Suite 105
San Mateo, CA 94401
T: (800) 884-4081
F: (650) 340-9514
Plastic Surgery in San Jose/South Bay
James Newman, MD, FACS, is a highly regarded facial plastic surgeon certified by both the American Board of Facial Plastic and Reconstructive Surgery and the American Board of Otolaryngology. He is on the clinical faculty at Stanford University and serves as a consultant to Palo Alto Veteran's Hospital and the Valley Medical Center in Santa Clara. Dr. Newman frequently lectures on the latest advancements in facial plastic and reconstructive surgery and holds several advisory board positions with institutions developing new technologies for plastic surgery. He has authored numerous scientific articles and has presented both nationally and internationally. Dr. Newman has also appeared on several major media outlets and has been named one of the Silicon Valley's Top Physicians by San Jose Magazine for two consecutive years.
Dr. Newman specializes in facial plastic and reconstructive surgery. He offers several facelift variations, including weekend facelift, mini lift, mid-face lift surgery, ribbon lift and Silhouette lift. Each procedure varies in the degree of invasiveness, incision type, and number of tissue layers treated. The weekend facelift is performed under local or general anesthesia and addresses sagging neck and chin area. The midface lift rejuvenates the natural beauty and fullness of the cheek area. The mini lift, ribbon lift and Silhouette lift are minimally invasive facial rejuvenation procedures that are performed under sedation and deliver remarkable aesthetic results with minimal recovery time.
In addition to facelift procedures, Dr. Newman offers rhinoplasty (nose reshaping surgery). The goal of nose surgery is to reshape and enhance the appearance of the nose, making it appear more proportional and harmonious with other facial features. When performed for cosmetic purposes, Dr. Newman offers closed rhinoplasty surgery, which involves surgical incisions on the inside of the nose for minimum postoperative scarring. Dr. Newman also performs reconstructive nose surgery to address congenital deformities and facial injuries, as well as laser turbinate surgery to improve nasal breathing and repair nasal fractures.
Dr. Newman also performs eyelid surgery, brow lift, chin augmentation, facial implants surgery, ear surgery and cheek augmentation surgery. He is a skilled facial reconstruction surgeon who performs procedures such as reconstructive nasal surgery, scar revision, facial cancer excision and facial restoration after traumatic injury. Dr. Newman is well-trained in the latest laser technologies and facial injectables. He performs a number of non-surgical facial rejuvenation procedures such as laser hair removal, laser wrinkle treatments, fat injections, Botox, dermal fillers and more.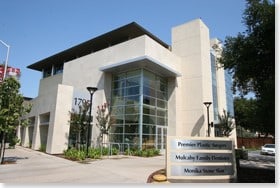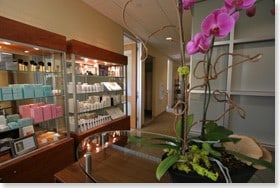 Premier Plastic Surgery is an accredited surgical facility.
Dr. Newman performs surgical procedures at Premier Plastic Surgery, a fully staffed, accredited, state-of-the-art plastic surgery practice featuring the latest surgical equipment and laser technologies. Premier Plastic Surgery is also home to comfortable recovery facilities and board-certified anesthesiologists for maximum patient safety. The surgeons of Premier Plastic Surgery also perform breast augmentation, tummy tuck, liposuction and other body sculpting procedures.
To schedule a one-on-one consultation with Dr. Newman and learn more about your facial plastic surgery options, please contact Premier Plastic Surgery in Palo Alto at (800) 250-9572 or in San Mateo at (800) 884-4081.
What Do Patients Say About Dr. Newman?
"My face improvement is remarkable; my new face became smooth and clear. A Big thanks for the excellent job you and your staff did." —Barb S. (Skin Resurfacing)
"I cannot express how much I appreciate all your kindness and how grateful I am for making my dream come true. Thank you so much!" —K.V. (Facial Rejuvenation)
"Thank you very much for doing such a wonderful job on my surgery! I am extremely pleased with my results." —J.U. (Eyelid Rejuvenation)
"You are truly an artist! I am so happy with the natural results that make me look and feel wonderful." —M.T. (Facelift)
"Thank you for taking me on as a patient, there are not many surgeons who are willing to correct prior results with cosmetic surgery. You gave me great comfort through the entire process and the results are beyond my expectations. Thank you and your staff for the excellent job." —M.U. (Revision Liposculpture)
More About James Newman, MD, FACS
James Newman, MD, FACS, received his undergraduate degree from Baylor University and his medical degree from the University of Texas. In recognition of his outstanding academic performance, Dr. Newman was honored with the Jimmy Dickinson Award and received honors recognition in surgery, after which he was asked to join the prestigious Alpha Omega Alpha medical honor society. Dr. Newman completed a five-year residency in head and neck surgery at Stanford University, where he performed more than 1,000 surgeries. He continued his training with a fellowship in facial plastic and reconstructive surgery at Stanford University and joined the school's faculty. Dr. Newman holds surgical privileges and is on staff at several medical centers in the South Bay Area, including Mills-Peninsula, El Camino and Stanford University hospitals. He is a Fellow of the American College of Surgeons, the American Academy of Otolaryngology-Head and Neck Surgery, the American Society for Lasers in Medicine and Surgery and the American Academy of Facial Plastic and Reconstructive Surgery. Dr. Newman is also a member of the Santa Clara Medical Association, the International Society of Hair Restoration Surgeons, and the World Society of Aesthetic Surgery, and is on the executive board for the California Society of Facial Plastic Surgery.